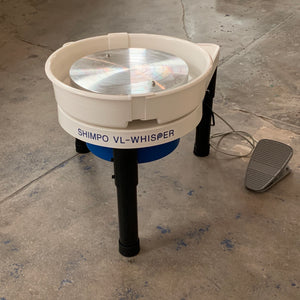 Shimpo VL-Whisper pottery wheel uses and exceptional Direct Drive motor. The Direct Drive motor is a brushless, beltless motor that operates on a magnet system and is electronically controlled. As a result, the motor is extremely quiet!
These are the wheels we choose to use in our studio because they are powerful, quiet, and durable - day in, day out - for all our production potters and classes. 
Features: direct drive system, 100 lbs centering, 14" light alloy casting wheelhead, drilled for bat pints, adjustable and removable legs, higher torque, maintains speed when foot is taken off pedal, even at slow speeds, reversible wheel head, 5 year manufacturer warranty. 
Pottery wheels are available for LOCAL PICK UP ONLY at our clay and supply shop at 2808 Elm Street, LA 90065
Note: This product may be harmful to a person who has a pacemaker. Serious injury or death could occur.