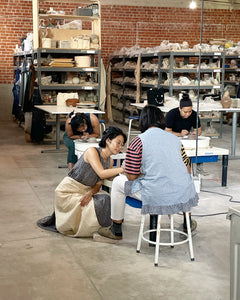 For those who would like to learn from a skilled instructor in a one-on-one setting, we offer Individual Pottery Instruction, much like a personal trainer, for pottery. 
You can come with whatever level you are at - beginner, intermediate, advanced; wheelthrower or handbuilder or both. We will learn about your past experience, interest and goals. 
Our Individual Pottery Instruction rate is $100 per hour, and includes the use of a shared shelf to store items for those who purchase a package or series so that you can continue to grow and learn. This does not include practice time outside of the sessions; but would be a way to familiarize yourself to be able to also join as a member if you wish. 
You can purchase Individual Pottery Instruction as a single session, one at a time; or as a series of 5. 
The following applies to all Individual Pottery Instruction sessions, regardless of one time or recurring:
Sessions must be booked in advance and 48 hour cancellation policy is required to cancel / reschedule. After this point, if there is not notice, and the session is missed it is forfeited. 
We do not offer refunds on unused sessions. Sessions do not expire. 
For the best learning experience, we will work with you to schedule sessions around other group class times, and peak studio hours. If you have particular scheduling requirements we recommend you get in touch with us first to confirm before purchasing!
Sessions must only be used for one student, and are not transferrable to anyone other than the person attending or the name provided as the student (if being gifted.)
For any other questions we encourage you to reach out!
clayandsupply@thepotterystudio.com