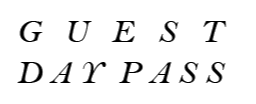 For members: If you'd like to bring a one-time guest to the studio to show them around, see if they enjoy working with clay, or they are visiting from out of town, etc, you are welcome to purchase a one day pass. Please be sure to read and understand the following:
Your guest must only go to the studio with you present on that day, and you are responsible for their understanding and respect of the community space and equipment. 
Please enter the day you want to have them come with you in the notes at checkout. 
The pass is just for the one day. Members can purchase up to 3 guest passes per calendar year.  
{formbuilder:Nzk4NzQ=}